There comes a day when your baby chickens are no longer bitty sleepy things scuttling around your house and tiring themselves out with their very aliveness. Nor are they the gawky tweens with patchy-feathered necks loitering nervously at the compost pile. No, suddenly they are the vaguely dinosaur-ish thugs that need chasing out of the vegetable beds and nightly saving from skunks and raccoons.
I love raising chickens. I love how they have individual personalities (debatable actually, but Col reports that Shadow likes when he wears his blue sweatshirt). And I like their comical "henish group-think," like how when one hen nabs a grasshopper, the six others race around vaguely chasing her until she gulps its wiggling body; or how all that's needed to start a party is one watermelon rind. I like that they tolerate Col and Rose toting them around the yard while keeping a longing eye on their grazing sisters. I love that they fit into our small homestead. I absolutely love the eggs, but also: the manure, leaf-shredding and insect-eating. I love that they add a richness of life to our lives.
A gallery of chickens:
http://i67.photobucket.com/albums/h288/rachelturiel/chix_zps4f014ab0.jpg
Obligatory inter-species shot.
A horse and her rider, obviously.
A family skype session.
Agility training.
Six swaddled chickens in the top bunk. 
Attachment parenting is so tiring.
 Homeschooling with a friend.
Just plain odd.
 Chicken zipline. Dear me.
Best t-shirt EVER. Get 10% off yours (and all other orders) here.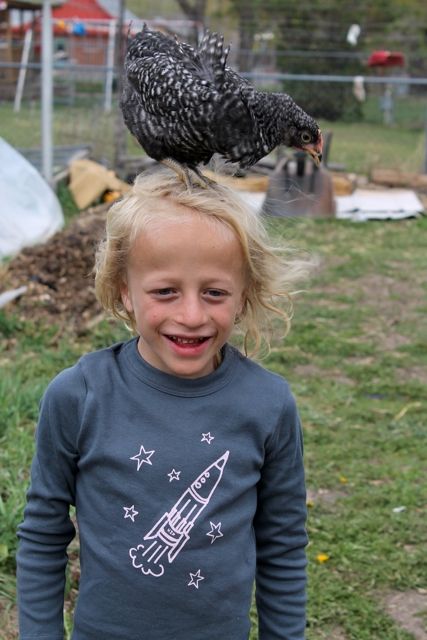 A boy and his buddy. This shirt also 10% off at Handsome in Pink!
Tandem riding.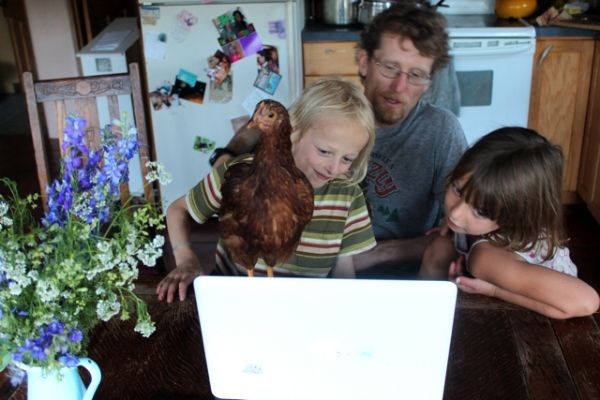 Skype session II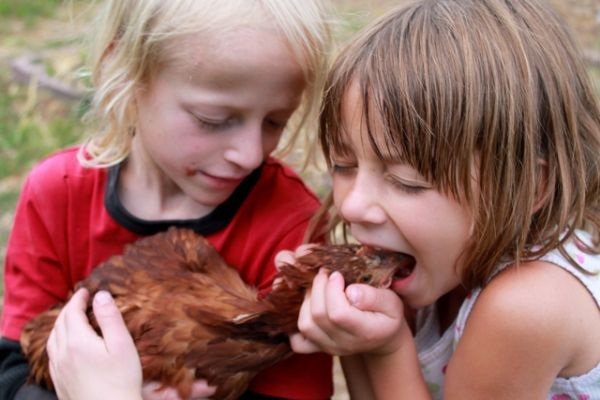 Rozzy Osbourne
How fast they grow…now show me the eggs.
Chicken posts I have loved:
Drama in the hen house (in which a big-hair hen turns out to be a rooster and I lose by meddling in the affairs of chickens)
The non-mentioning of the chicken named Sunflower (In which we eat our hen and I don't want to talk about it)
ps: Any chicken-raising questions? Feel free to ask.