homestead happenings: "a lot of fun things"
Rose: What does S P I W K spell?
Me: Nothing. That's not a word. (Because I'm the President of the Accuracy at All Costs Club)
Rose: But it has a vowel in it.
Col: Not everything with vowels in them are words, Rosie. Like whore.
Me: *spitting out coffee*
Col: Right Mom? That's not a word.
Me: Whore?
Col: Right. H O R.
Me: Right. That's right, darling.
Oh you know, just a little morning correspondence while a hen snuggles in Col's sweatshirt.
Summer is here like a relative for whom we've been anxiously awaiting, but also shyly getting to know all over again. Mornings, while the sun is still a benevolent little orb ticking up the eastern horizon, we file outside like we've been hypnotized. Must smell fresh air…must snuggle a chicken…must check on spinach/squash/tomato plants…must snatch a few roly polies away from the chickens to Sacrifice to the Rain Gods. 
Apparently Col has been slightly affected by the book we just read about the Mayan Indians, who seemed to call "Sacrifice!" at the drop of a hat. Not that I'm in favor of sacrificing animals, but that very same afternoon 53 raindrops fell. Just saying.
Mornings, Dan's lured outside to stink up the yard with the latest elk hide tanning project. They don't call it brain-tanning for nothing.
And Col can be found in his office:
Summer has been so good in that way you absolutely know it'll be. Its tagline is freedom and everyone feels it. I like watching the kids mill around the yard, circling their own lives the way dogs circle the ground before dropping into a nap. Sometimes the day yawns scarily ahead of us like this chasm of sticky boredom that you could fall into and become too hotly apathetic to ever climb out of. But really, it's never like that. There's grasshoppers to catch, civil engineering projects in the sand pile, and the magic that springs forth from imaginations unshackled. The unschooling credo, "the whole world is our classroom" suddenly feels less like a shaky cardboard sign I'm trying to hold up, and more like what happens everyday when I open the front door.
On the homestead:
:: Dan read the book Project Based Homeschooling and got inspired to give the kids a work space within our living room. (Because, inexplicably, the kids don't actually hang out in their shared room). I'm not sure what Dan had in mind, but the kids immediately created "shops." Col's is called: ArT STOR! Rose's is called THE CHOCOLATE CARROT. Col has been taking his own art off our walls and trying to sell it back to us. And Rose's store offers a plethora of items, and when you enter she's usually on the lego cell phone she made, saying "Someone's here, gotta go, Cindy."
On the chair is a sign that says "open" and on the other side "closed." Sneaking that chair to the dinner table when we have guests is a tricky business.
:: A couple nights ago, we had a pizza party with our downstairs neighbor-tenants who built a clay oven on our property. For Col and Rose, pizza parties are the pinnacle of party. It's like they've been invited to eat candy with Roald Dahl and Colin Meloy. Maybe it's that our tenants are like heroes, kid-free and car-free and always coming or going from some adventure. Or maybe it's that you get to build your own pizza all by yourself while the grownups drink beer outside.
Rolling out dough for the pizzas, not a grown-up in sight!
:: I am very pleased with the garden so far. Because of our early salad bar planting, everyone has a large salad quota for the day. The peas and strawberries are coming on and grazing in the garden has officially become an activity.
This is a show-off salad, the kind you will be served if you come to our house for dinner. 
We just celebrated the 15-year anniversary of our urban homestead. The crazy thing is that when we bought this property there was not a single tree, not a single food-producing item. Just a humongous lawn and one row of purple irises. The other crazy thing is that even at year 15, we're constantly adding, changing, removing, refining. Each spring, I think to myself, it's really coming together now. Which is just to say, the best time to begin creating your dream homestead is now, and there is always more space than you think.
The story of our urban homestead. (Fun Before and After photos)
This spring we (Dan) transferred the sand in the kids' sand box to a shady spot, and the sand box got filled with horse manure and compost.
And planted with tomatoes!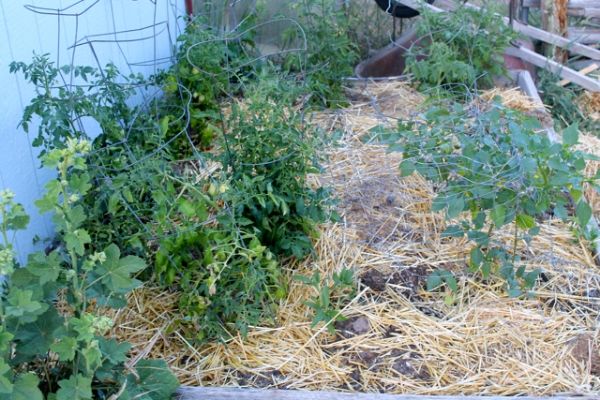 There is always a hollyhock lurking.
:: So, the deal with Bridge to Terabithia is that it is super sad, and that my kids might be a little tough-hearted, but I think the 6 and up crowd can handle it. Now we're on Book 2 of Lemony Snicket, which is so suspensefully sinister that when I read a chapter at night, I have to follow it with a Beatrix Potter book so the kids don't have nightmares! After we're done with…um, the next 10 books in the series, it's Winnie the Pooh for the rest of the summer.
:: Our summer lifestyle is so rich and affirming, it feels like a whole stack of doubts has fallen off a wobbly shelf in my mind. What are we doing with our lives? Living.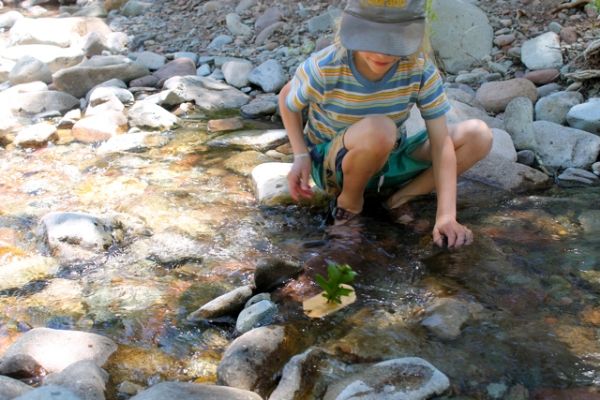 At the pizza party, slicing up a gorgeous pizza wth creek water still drying in her hair, Rose looked up at me and said, with awe in her voice, "There's a lot of fun things in my life. Just one after another."
And then I melted with gratitude.
xo,
Rachel
* Also, I feel compelled to say that despite Dan's proclivity to dish it up straight, he's also got a soft yielding heart. Last night Rose came into our room, told us she had a bad dream and she couldn't go back to sleep unless a parent came and slept with her. "Ask Daddy," I suggested, like the jerk I am at 3:00 am. And without hesitation, Dan climbed up her bunk bed ladder and slept in her top bunk with her for the rest of the night.
* Also, #2. Dan is on a self-led, 4-night, solo, fasting, vision-quest in the mountains. The partner/lover/friend in me is like, "Honey, that is so great. How can I support you?" The Jewish Mother in me is like, "Honey, if you don't eat for four days, you will die!" We dropped him off this morning and Rose, who will likely someday be a Jewish mother herself, said, "Daddy, couldn't you just eat a few juniper berries?" Dan smiled, and walked up the trail, his sage smudgestick leaving a line of sweet earthy smoke behind him.