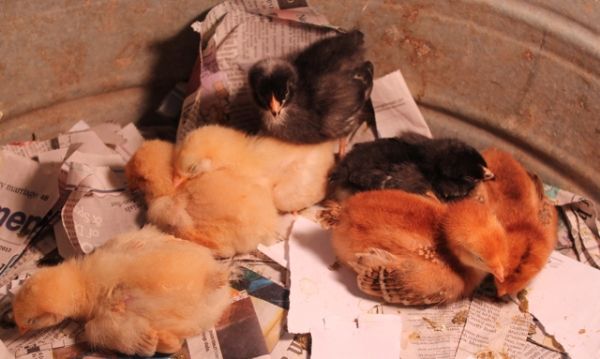 We've got 7 new baby chickens and it's a little like an all night frat party around here. Someone's always lying in someone else's bodily fluids, someone seems to have fallen asleep standing up, again, and there's always a crowd  playing Twister (put your beak on her tail), and then passing out mid-spin.
Chicks skyping with Baba and Nana
We've had various backyard chickens for the past four years (and have even eaten a few, though we'd never killed them ourselves) and then, well, that thing happened which happens with chickens, which is they stop laying, because they make a finite amount of eggs, and the gig is up, and your laying flock is now a bunch of sweet, voracious pets, and you've got some decisions to make.
Life Cycle of a Chicken, by Rose
The job of killing our last flock went to Dan, because I can't even kill a grasshopper camped out on my chard without a convulsive shudder; also, he's not coming right off the couch, so to speak, when it comes to providing meat for dinner. So, one night in bed we watched this video about humanely killing chickens, like date night for murderers. And then we put off the killing for 3 more months.
Next, it started snowing, which is a chicken's biggest insult. It was time. I am simultaneously embarrassed, proud and perplexed to say Col and Rose were completely OK with the plan. (Rose had a moment of protest which was eclipsed 2 minutes later by outrage that Col got to carry the bag of pecans Lianne gave us for Christmas). While we hosted a homeschool co-op meeting at our house, Dan, in green apron, ghosted through falling snow from chicken coop to shed-turned-abattoir, a chicken cradled in his arms. Watching this from our upstairs windows, my heart squeezed shut.
We've eaten 2 of those 3 chickens, which is a stretch of the imagination, considering that we also loved them, and a stretch of jaw-power, considering their age.
And now we move on.
The inevitable set up
It's great fun to have babies in the house again. They live in the bathroom and make us all talk in ridiculous high-pitched voices; even Dan said, while the hens were entangled in the latest game of Fowly Twister: "this is a really above average group."
I've advised the kids not to name these new babies, though we compromised on one name for each breed.
http://i67.photobucket.com/albums/h288/rachelturiel/b7157a1a-7393-49cf-a58c-ab73c95ceacd_zps7cba489f.jpg
The "Dandelions."
With backyard chickens, there are endings and beginnings. I am glad to be on the beginning side this spring.