The Senator is in.
But like many of them, is no longer to be trusted. Bribe-taker!
There's so much happening here! By which I mean, well, plants.
Greenhouse Bok Choi  
Baby tomatoes.
And also, I just made an extra large batch of piñon salve, which I'd like to offer to you first.
Lately, I've been using the piñon salve primarily on my lips, which feel a little like I've been dragging them through salted glass since returning from the rainforest. In summer, I use it on my heels, which peel in horrific layers upon fissures upon layers, before getting infected. Sorry for that image. But seriously, the piñon works overnight. Overnight.
Piñon tree sap is the key ingredient (other ingredients: organic olive oil, beeswax), which is anti-bacterial, anti-fungal, soothing, repairing and generally, healing. We use it on all sorts of cuts and scrapes, any infection (even open wound), and certainly dry skin.
When I used to work at the herb shop, a friend once commented that our labels looked a little amateurish, "like you just made them on your computer," she said. Which was precisely true and is still my gold standard, which is why I want to say: look! I made these labels on my computer. I am totally a graphic designer now.
Piñon Salve Testimonials:
"Rachel's piñon salve is the best! It took an infected scrape from really angry, red, and looking bad to calm and healing within a few hours! It is moisturizing and keeps infection at bay naturally. I HIGHLY recommend it."
– Becca James, James Ranch Artisanal Cheesemaker
"Rachel, your piñon salve is hands down the best antimicrobial skin healer I have yet to find.
We use it at home on all my boys scratches and cuts, I have a jar in my camping first aid kit, and we have it in our first aid kit here at the clinic."
– Julia Fisher, Doctor of Oriental Medicine
"I once had a jar explode in my hands that resulted in some deep cuts in my finger tips. The anti-fungal and anti-bacterial qualities (I'm sure there are more) of the piñon salve brought me peace that I could get my hands dirty and do what I had to do without growing something in the cuts. The side effects of the salve are an attractive earthy essence and soft male model hands."
– Sage Peterson, Personal Fitness Coach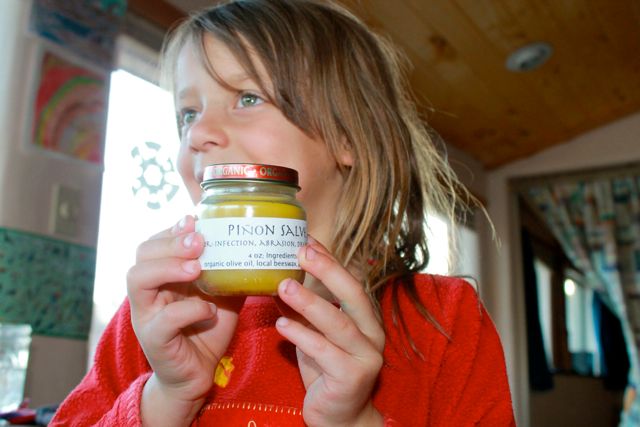 Pinon Salve Saleslady: so busy with sales, no time for hairbrushing.
I am selling 4oz glass jars of Piñon Salve for $17.00/each, plus shipping. There is a jar for the first 10 people to e-mail me. E-mail: sanjuandrive(at)frontier(dot)net
Holy Smokes, those 10 jars went quick, and now I have a huge waiting list for the next batch. Sorry, I can't take any more requests now, but I'm feeling the cracked heel solidarity and will go visit some piñon trees very soon for all of our benefit.
From my heels to yours,
Rachel