It must be Fathers Day if we're switch-backing up a steep, rutted, cliffy gravel road at 9am, bag of bakery goods sweating greasily in the front seat, truck pointed towards 11,000 feet.
The dues to pay: the truck weeble-wobbling on washboard sections of the road on the side of a cliff. Rose demonstrating impressive plea-bargaining skills for the liberation of a croissant. Col and I both gripping vinyl and gasping for much of the drive.
The rewards:
Red columbine. When Rose caught onto the fact that she could suck the nectar out of the columbine spurs, we didn't hear about croissants for awhile.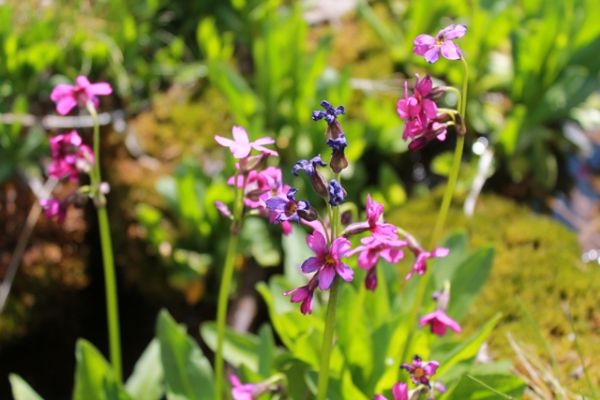 Parry's primrose (in honor of Dan's father, Hal, who we miss terribly and who called himself a "primula-phile,"), the stinkiest flower you'll ever love.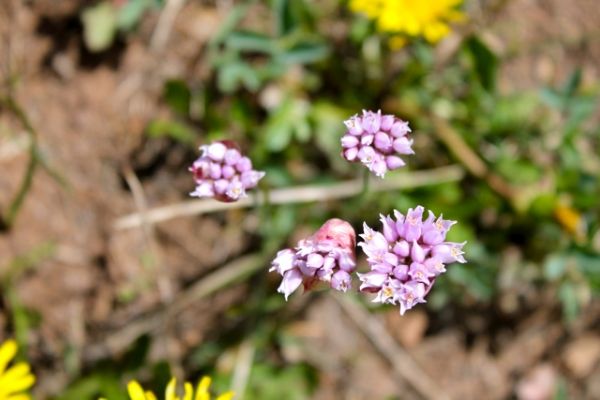 Wild onion, where sweet meets spicy.
There is no doubt that our kids get different things from each of their parents. I am pretty thrilled that the kids consider the library a destination, and that for them the nightly reading of chapter books falls under the "needs" category, along with food, water and snuggles. (Current book: Bridge to Terebithia). Dan is pretty thrilled that last week Col trounced him in a BB-gun shooting contest and that Rose would spend all summer in a tent if she could. Dan finds hanging out at the park fairly ho hum (especially if we don't bring a soccer ball); I find the street bike races he organizes harrowingly unwatchable.
At the beginning of our Father's Day hike, we crossed a creek and Col's left foot slipped in and got soaked. Dan told him, "you were born with wet feet, kid, and you'll probably have wet feel again." I waited for the protest, but Col blithely hopped onto a fallen log and continued on his quest for fossils. Later, when Rose wondered, sighingly, where we were going, Dan answered, "We're here to be where we're at right now." Rose nodded up at him as if Dalai Lama the Daddy had spoken.
I try to pay attention to Dan's wisdom. While I'm bumbling around trying to find the line between encouragement and praise, often mistaking it for some subtle, mysterious thing, Dan delivers it straight. He tells Col, to whom he's pitching baseballs, "you don't need to hit the ball into the San Juan Mountains, you just need to connect with it." I crane my neck from where I'm transplanting squash to see how Col's absorbing these words. He smiles, takes a long breath, and smoothly cracks the ball over the chicken coop.
Dan's comments to the kids sometimes seem flavored with the bitter spice, quit yer bitching. But really the underlying sentiment is, I believe in your strength, adaptability and flexibility. The kids get to rise up to what is already expected of them. And they do.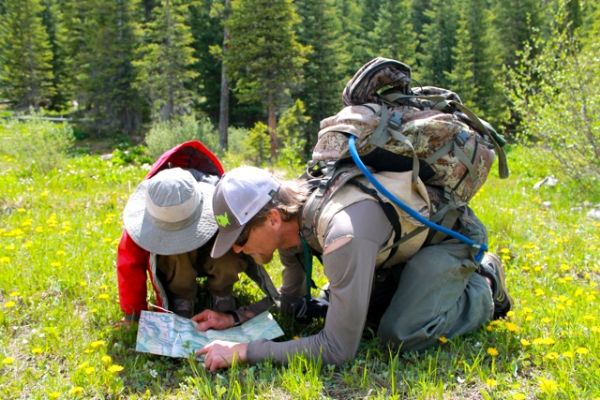 Lewisia pygmea for fellow plant nerd, Lilly Hancock.
In the mountains we got rained on, hailed on, and chased out of the forest by wild lightning cracks. Rose, whose superpower is Can have a party most anywhere, plucked hail out of wildflower cups, while singing out a song of thanks and sucking on ice balls like candy. Meanwhile the rest of us were like, "um, do you hear that lightning?"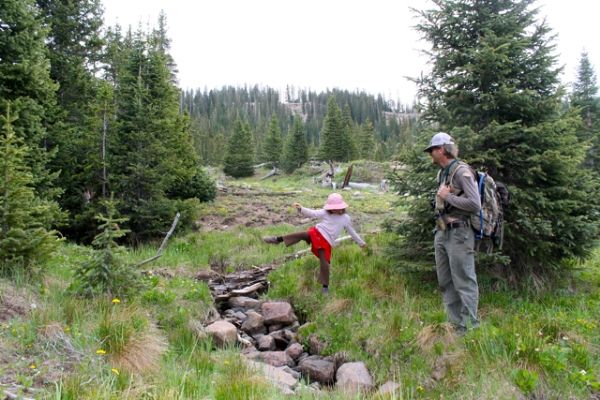 As usual, we didn't hike far. As usual, being up amongst the primroses and columbines left a wistful taste in my mouth from every glorious pre-kid backpacking trip I've ever taken. I know I'll be back in these mountains, unfettered, someday soon. The gift now is watching Col swoop a heart-shaped rock up from the banks of the rock-lined creek like it sang to him, and presenting it to Dan. (Later he tells me, "I'm going to carry this rock but it'll always be from me to Daddy."). The gift now is hearing Rose announce proudly, "I'm spotting so many yellow wild mustards!" (Even though they're actually mountain parsley. No problem girl, you'll get it.). The gift is simply being here, the invisible cord of family cinching us together on a summer day in the high country.
ps: thank you for all your sweet words before and after my birthday!