homestead happenings: spring days
Spring days, 2013:
Me: Wake up. Shuttle seven tween chickens outside in laundry basket (clean up inevitable poop from two minute commute). Water hundreds of seedlings and their hundreds of shirker brother and sister seeds who remain uncooperatively underground. Tend the too-bereft-to-grow grass in our sparse and puny "lawn," while attempting to remove clumps of uninvited grass spearing robustly out of garden beds. Develop new parenting skill: hearing the children playing outside when I can no longer see them. Tell Dan that tonight we really need to get the kids to bed early, really. Shuttle seven tween chickens back inside in laundry basket at night.
Rose: Count days until 6th birthday. Invent deviant games involving chickens. Throw self at Mama for slowdance when Rolling Stones sing Wild Horses, believing song is actually about horses.
The Roseness of Rose.
Deviant chicken game: chicken zipline.
Col: Build things out of things. Lose important stuff (socks, water bottle, sun hat), find even more important stuff (bottle cap, dead beetle, beaver-gnawed stick).
Dan: Find cast off elk antlers on weekly hikes. Bring kids bonus owl pellets from hike, announcing gleefully: they were in the exact same place as last year's owl pellets! Watch basketball on computer at night. Tell kids in morning that our team (Denver) beat Baba's team (SF). Not laugh too hard when Rose asks: was Baba playing? Call wife from work to utter lascivious comments.
Me: Try to remember to ask Dan about hikes and the antlers he finds (though he doesn't need to share his stories, and will often tell me offhandedly, after dinner, after getting kids to bed how he tracked a mountain lion to 30 yards away. Oh that). Trip over boat Col is making from rubber bands and sticks. Scoop Rosie into arms and dance to Wild Horses, feel her legs clamp around me. Know I am luckiest Mama alive.
On the homestead:
:: The tomato infirmary. At least 1/4 of my tomatoes have what I've diagnosed as curly top virus, and more are falling everyday. I've been quarantining them and practicing saying, "I might not have any tomatoes this year, and that's okay." So far I sound as convincing as Richard Nixon circa 1973.
:: After some tricky business involving hurt feelings and exclusivity we took a day to study Emotional Intelligence in Rose's homeschool co-op. Wow. The beautiful thing is kids have way fewer layers of defense built up than adults. The hard thing is that we're all wired for self-protection, which often translates to blaming others, i.e.: "you're mean, you're not my friend anymore!" instead of "I'm hurt and sad, and I don't like feeling this way."
The kids acted out scenarios in which 2 kids are playing and 1 kid gets left out. Everyone wanted a turn to be the left-out kid who then speaks up and says, "I'm feeling hurt and sad. I want to have fun with friends too."
Left-out child scenario, take 3.
We also used this matching game, Feeleez, to simply name feelings. The kids really gravitated towards "happy" and "sad," but eventually we got to: disappointed, frustrated, scared, lonely. Marshall Rosenberg's books about Non Violent Communication were helpful for me when preparing to teach. Hint (as per Rosenberg): if you say, "I'm feeling that…." this is not a feeling.
The 4 kids also decided that it was not OK to leave anyone out during homeschool co-op. If 2 people want to play together alone, they need to make a playdate. And then they went back to status quo: "Okay, lets say that we were sisters and our mother died." "Yeah, and then we decide to move to Africa." "Yeah, and I only have one arm."
:: Col got married last Monday. He wore an off the shoulder black cape and his bride (who later whispered to Rose, "that was so embarrassing") carried a bouquet of grass, comfrey, geranium and kale.
We babysit three sisters every other Monday, and bless Col's sweet little heart, he's always game for their plans.
:: Homeschool engineering, or physics, or something.
Pour the water in one end of the 20-ft, semi-buried pipe…
And create on the other end, inadvertently…a fountain pool for chickens!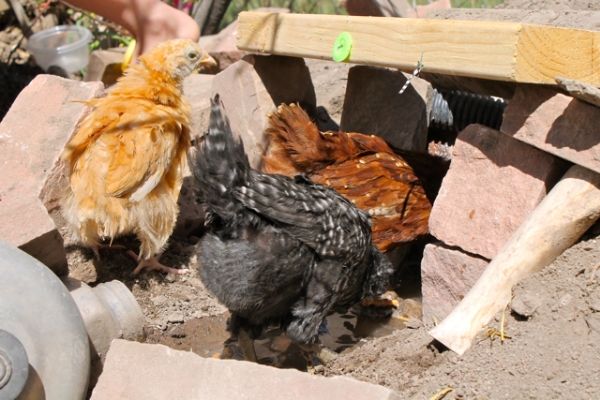 Which is to say, if you're looking for Col this summer, check the dirt pile.
I'm halfway through this book, which is so good and so long and seems longer because I had to put it aside to read this book, which came in via library request, and is the very definition of psychological thriller and I loved it, even if I felt like I needed a shower after finishing it.
The kids and I recently finished Under Wildwood (the sequel to Wildwood), which we all loved so much that when the kids got crabby with each other I could often stop the downward spiral by saying, "hey! do you think Prue and Curtis will ever get back home?" Now we're reading a new Will Hobbs book, who is master of the coming of age adventure story.
What are you reading and planting and singing, dear people?
xo,
Rachel
Definitely not about wild horses.