garden tips: grow a spring salad bar
If you live in a place where spring is gently shaking the land awake, spreading greenness like a very slow Stadium Wave across the grey hillsides, but you're dying to get your fingers in the garden, psst, I have an idea for you.
I started doing this last year – covering every inch of soil in spring with hardy seeds that aren't bothered by a little frost or even snow, seeds that will become the salads of your future.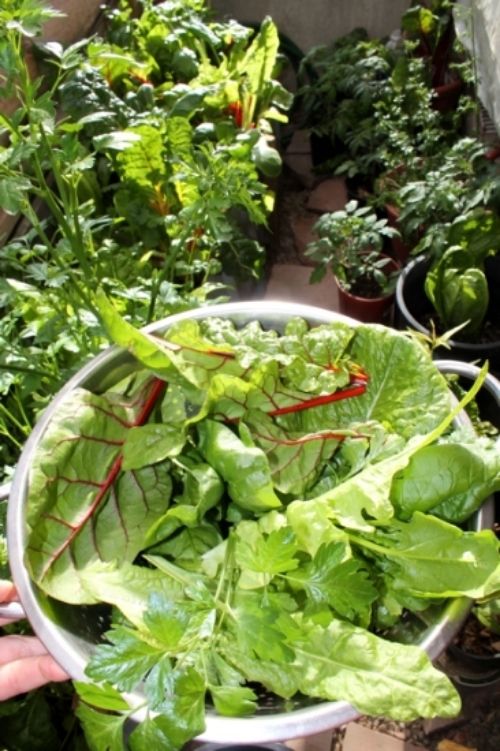 I know it's hardly fair to post a picture of my greenhouse – but omg!

Now—even at 6512 feet—is the perfect time to sow carrots, peas, lettuce, spinach, kale, cilantro, parsley, chard, radishes, beets, bok choi, mustard greens and arugula seeds directly in the ground. Except for carrots and beets, all these leafy greens will mature by the time the primadonna cast of tomato plants march onto the outside stage, at which time, you harvest the last of your prolific greens and say casually to friends, "oh this whole succession planting thing? Yeah, it just makes sense."
I mean really, now that we're all making luscious soil, put that dirt to work. You can still reserve space for your honored tomato guests, just allow the placeholder of greens to fill the interim. I was trying to remember if this idea actually worked last year, and then I remembered that we took a ginormous salad to every potluck we attended all spring. So, yes.
purple mustard greens.
Be sure to over-plant, because there are a million reasons to fall in love with a salad. Plus, every time I toss another empty seed packet in the garbage, I mutter to myself, "wow, that's some cheap therapy." You feel this too, right? The simple joy of small green leaves who weren't there yesterday popping up and waving at you like you're at some joyous airport reunion, though really you're in a stained t-shirt, windswept and maybe a little stinky under the arms, muttering to yourself in your cold, April backyard.
http://i67.photobucket.com/albums/h288/rachelturiel/greens2_zps729d54a8.jpg
Rows schmows: the spinach clump.
If you're still weeks away from the last frost-free date (we're approximately 5 weeks away from safely settling tomatoes in the ground – but you know I'm going to push it), this is the perfect time to get started on your salad bar garden.
The Awesomeness:
* These seeds all do best sown directly in the ground, no need to start indoors.
* Harvesting real food before June at these latitudes will make you feel like a very successful farmer.
* Make use of your soil, even if it's not nearly close to perfect. Salad greens are easy and fast to grow, and don't require the greatest soil. You can get your greens started while you find a source of manure for the summer garden.
* You don't even need to have your summer garden plan figured out to get started.
* Also safe to plant now: chives, onions, turnips, potatoes.
* Spring is a wonderful time to work in the garden: cooler weather, the ability to harbor illusions that your weeds really aren't much of a problem.
* Spring is a wonderful time for plants to grow: before the grasshoppers, before the sweltering sun, before the Takeover of the Weeds.
* Arugula, chard, kale, bok choi and spinach are listed in the book, 150 Healthiest Foods on Earth. Iron, Vit K, A, C, calcium, potassium, antioxidants, yada yada.
Also, you can scrap the whole civilized business of agriculture, and just eat dandelions!
http://i67.photobucket.com/albums/h288/rachelturiel/IMG_2690_zpsb5949e55.jpg
*I did my first garden consult yesterday. I love seeing how people love their gardens. Also, I lowered my price. I'm coming to Montezuma County (possibly next Friday) for garden consults, if you're in the area and interested, I'm waiving my travel fee.
* I ddn't mean to be all cryptic with my last post. Everything is fine. Just good challenges, and sometimes I turn the comments off.
May your radishes and life be sweet and spicy.
Linking with Simple Lives Thursday
Leave a Reply