parenting our children, parenting ourselves
I've been outside planting seeds like a large, semi-verbal toddler trying to regulate a bad mood. If I were a cartoon character, you'd see this black cloud trailing me through the garden as I mutter: put seed in ground. Cover seed. Water seed. Do again.
My mind has been this scary, thuggish place lately – slightly dangerous to inhabit after dark. Full of tripping hazards, broken items needing fixing, and shadowy characters hissing from behind gaping, leaking refrigerators.
Every time I crack open the laptop to write something here, to show you the greenhouse pulsing with life! or baby chickens growing so fast! (so fast in fact, that they're flapping out of their baby-house onto the bathroom floor, to fulfill all their escapist dreams, which is to say: pooping and sleeping outside of baby-house), everytime I go to write about this it all seems sort of ridiculous, what with the heap of broken, jagged furniture back in the corner.
http://i67.photobucket.com/albums/h288/rachelturiel/chickie_zpsc9022999.jpg
And sure, there are some…transitions, happening here in real life. Namely, Dan is getting laid off sometime in the next couple months. Which is don't-forget-to-breathe exciting because we have all these radical income-producing ideas, and scary because every idea needs approximately 10 well-connected cheerleaders (preferably with trust funds and boundless energy) to pull off.
And when fear arises in the mind, it's so intimidating that all the rational and cheery elves that usually keep everything somewhat polished and orderly, scurry away. And the next poor, hapless thought to scrabble across the tundra of my mind gets immediately heckled by the bullies, who seem to be in an interrogating mood.
And so, I go outside and plant another row of lettuce seeds.
Part 2 – What I learned from being a parent
Meanwhile, or maybe in perfect synchronicity, Rose has been going through her own funk. It manifests as not wanting whatever is happening in the moment, and wanting lots of external feel-good entertainment. It sounds like this: "I want a barbie, I want gum, I want dessert, I want mac'n'cheese, I want to watch a movie, I want a snack, I want a friend to come over…" (She usually chooses one thing at a time and works this angle for most of an hour…or the next 24. This is not a strong, decisive voice. This is a whining, pleading, desperate voice). Occasionally she'll pause, losing her place and start her chant up again with the saddest refrain, "I want…I want…SOMETHING."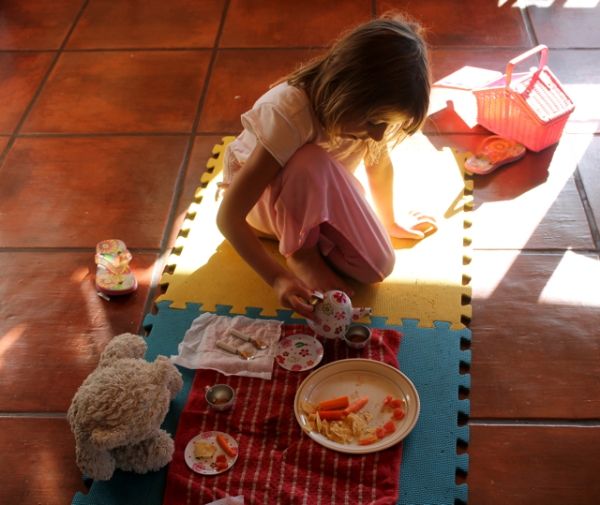 I've had enough practice, to know that for children, bless their unsophistication, the external mirrors the internal. And that Rose must be dealing with some serious internal turmoil, which she's doing her 5-year old best to shake off by seeking quick and easy pleasure. I ask if she wants to talk about what's underneath the wanting, if the hard shell of desire for these ephemeral things were to break open, what might lie underneath. "More barbies," she sniffles.
I've also had enough practice to know that as wearying as it is to be presented with the steroidal version of my child's daily wants, the answer is not: shame her for wanting, convince her she is lucky to have so much already, give in to all her wants, or punish her for whining and demanding.
And so I listen, "come here sweetie, tell me about it." I empathize, "you really really want mac'n'cheese, huh?" And then I gave her information, "tonight's dinner is already planned. It's not mac'n'cheese. We can buy some next time we go to the store." Repeat, repeat, repeat.
Meanwhile, I summon all my earthly patience. I call on the collective wisdom of all my parenting mentors, I call on a few early afternoon beers, I call on a lot of outside time and playdates. I give Rose lots of cuddles and tickles and as much availability as I can. I also tell her she can't wear me down by pleading; I will stay by her side but I won't change my answers.
And I listen for what is unsaid, for what a 5-year old can't express. As some of my weariness wore off, I heard that Rose needs more stimulation and daily structure (whereas Col and I like rambling agenda-less days at home). She needs more playdates, more academic challenge and more physical activity.
Part 3 – Parenting myself
I realized that, though I didn't understand all the causes of the girl-funk in our house (mine and Rose's) we were having similar experiences and needed similar medicine. Instead of wanting barbies and mac'n'cheese, I wanted: things to be easy, to never feel worry or doubt, to be certain that I'm on the right path.
So, just as I listened to Rose, I began listening to my own voice. I became secretary to all the disgruntled thugs, taking notes on their grievances while giving myself truckloads of empathy. If the thugs said, you suck at homeschooling your kids, I'd grit my teeth, lean in and say, "okay, tell me why." I'll tell you, this is as fun as dancing on hot coals. I'd much rather watch Berenstain Bears while eating mac'n'cheese, so I can see what Rose was getting at. But sometimes if you can get the bullies to use their words, there is a kernel of truth that is worth noting.
After planting, oh, 12 rows of greens (except we all know I'm not much for rows), letting the bullies speak, and returning the pooping chickens to their baby-house, I started hearing what was unsaid in my own mind. You want to do a really good job homeschooling your kids, and you have other work that calls to you. Okay, now we have something to work with. I am open to change.
Rose has come out of her spell, and holy mother-daughter connection, so have I. It's been five days (which as my friend Natalie astutely says, is a long time in blogging hours) since anyone has uttered the word "barbie." I still have fears about our transition, but I also know that my mind (having returned to its slightly neurotic though courageously optimistic state), like my children, is still growing up and needs a lot of care.
Oh, and would you like to see my greenhouse, pulsing with life?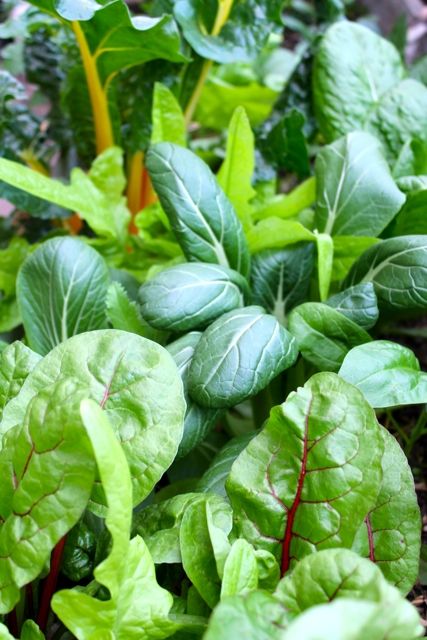 xo,
Rachel
Leave a Reply